Hello,
How are you today?
Hope you're having a lovely weekend. Here we are exploring another reality in South Africa. Actually, in my whole time growing up in South Africa, I have come across stories of people I casually knew that just mysteriously died. There were stories of people that went to the same school as I did, how some of them died left a lot of people in the community with questions. People in the community said a lot of things. Say, I was roughly eleven years or younger when for the first time I came across the concept of people ordering a hit on someone. Then when apartheid ended the new thing was robberies were part of an inside job. The first few times I've heard these kinds of stories, shock and a cold shiver washed over my face and body. I felt like I was in some Hollywood film until more violence, rapes, robberies, hijacking, assaults etc. grew that it was becoming part of life. The one thing that still never left over the years was the shock and sometimes those cold shivers that washed over my face and body. Soon enough, I've learnt that in South Africa we can't even be vulnerable. Hiding that first-time effect (cold shivers and shock) over and over again inside me became a norm.
Unfortunately, around the wrong people, you cannot be vulnerable. See in South Africa, and I am sure this is pretty normal around the rest of the world too; if you're walking down a street and a group of people that do not give you good vibes from the neighbourhood just happen to turn right into your street heading in your direction, you can't just turn around and run/walk in the opposite direction. You have to bravely walk past them showing no fear, almost as if you've done this a thousand times. Show fear, and you could end up being the target, be too fearless, and you could still end up being the target.
I've come to the title of this article because of the research I've done. Personally, from my own life experience in South Africa, I sincerely believe at the way things are in South Africa right now. The cost of a South African life is worth NOTHING unless you are an important figure in South Africa. Why would that matter? There's still a hit on you in the end. So, if a South African life is worth NOTHING, can you imagine how much value is put on foreigner's life or even your pet's life?
Sincerely, if there are 58 people killed daily, then life must mean that it's worth 0 rands. This is an article from the 12 September 2019, https://www.telegraph.co.uk/news/2019/09/12/south-africa-calls-sociologists-psychologists-help-crime-stats/
Last year there were 57 murders a day.
This article goes to say that you can hire a hitman in South Africa anywhere from R5000 (£274,35) upwards. According to this article, "The small jobs costs R5000 cash."
https://readinglist.click/sub/the-price-of-a-life-anything-from-r5000-upwards-read-an-excerpt-from-hitmen-for-hire-by-mark-shaw/
Take a look at this article https://www.news24.com/SouthAfrica/News/where-politicians-shop-for-hitmen-20170722
Here is an article that goes more into what Mark Shaw has based his book on. He says, "The upper world sails perilously close to the underworld."
https://www.polity.org.za/article/hitmen-for-hire-2017-09-08
This article brings us a few high-profile cases where hitman where hired and I am sure if you're in Britain reading this article you are aware of Dewani's hit or Anni (the honeymoon couple in Cape Town). The hitman said he was offered R15 000 for murdering her.
https://ewn.co.za/2014/10/01/high-profile-hit-men
Now, it looks like it's also very common to hire a hitman when it comes to custody battles and other things crazy people are capable of around the world. See what has come up in Google using the words, "Hitman hired custody battle." See the long list of articles that come up. Below are just a few.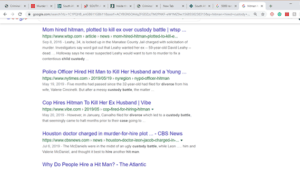 Here are a few more articles
https://www.businessinsider.co.za/hitmen-emails-in-sa-2018-5
https://www.security.co.za/news/34922
This article talks about a few more high-profile cases and the hit on footballer Marc Batchelor.
https://www.msn.com/en-za/news/national/inside-the-chilling-world-of-sa-hitmen/ar-AAEsf6o?li=BBqfP3n&ocid=UP97DHP
Furthermore, I want to take you into this case as well.
https://jayeshhari.blogspot.com/
https://www.iol.co.za/saturday-star/when-the-trail-goes-cold-17317838
So, see, South Africa, really isn't an easy country to live in. People live in a lot of fear. When you hear people giving their opinions on a topic on the radio, most people want to remain anonymous.
After digging into this topic, I can't help to say that if the politicians are this bad, then how is that any kind of a model for citizens of a country. I mean, if you're working for a company and you are seeing so much of immorality with the bosses, then this is a reflection on how management right at the top run things.
Until South Africa doesn't get any good role models at the top level, its citizens will just be the reflection of its government.
There are just too many issues that affect basic wellbeing that South Africa still hasn't sorted out.
T. Dench Patel